Project Proposal
Background
This project was designed by a team of seven people with the intent of incorporating some Learning Experience Design principles.
Goal
My team and I had the goal of
informing and educating
a general audience about the land history and culture of the first indigenous people and settlers of Oswego, New York. 
Our
main objectives
were for students to learn facts about Oswego in an interesting way, for users to look at information that is easy to understand, for users to have fun while enjoying learning, for users to utilize an interactive interface, and to create more positive exposure for Native Americans. 
Problem Statement 
At SUNY Oswego, the ALANA (African, Latino, Asian, and Native American) organization has been slowly decreasing in staff members. Oswego University was one of the first institutions in SUNY to offer a program in Native American studies. During our research, we discovered that students outside of the area have
minimal
knowledge
about Native American Indians. We found that this, along with the declination in staff members of ALANA, should be seen as a major problem within SUNY Oswego in which we felt obligated to solve. 
Proposed Solution
This interactive book will allow students to learn facts about Oswego's Native American history in a fun and exciting way. It will be interactive and animated, to keep the users engaged.
Augmented Reality
will also be incorporated into the book, using the app, Adobe Spark, to show what it may have looked like to be a Native America Indian in the past. We utilized education learning theories such as Behaviorism, Cognitivism, Constructivism, Humanism, and Connectivism, in order to design and implement this eBook. 
My Role
My position in this interactive book to take on the role as the
UX Designer
. I conducted user research, created multiple prototypes, and helped to design the interface.
User Research
We decided to design an eBook for the reason that touch screens and electronics are increasing in education among users of all ages. 
User research was conducted by speaking with professors in the Native Indian subjects, reading books and articles from Oswego's Penfield Library, and conducting online research on websites such as, www.oswego-history.com and www.exhibitions.nysm.nysed.gov.
We found that there is much to know about the Six Nations and Native Americans, as the Iroquois Tribe have roots and deep history within the area of Oswego that is overlooked. In addition, the SUNY Oswego Native American Minor Department is gradually becoming understaffed, when Oswego was one of the first institutions in SUNY to offer a program and Native American studies.
Target End Users
Our main focus on users was to target

elementary

and

middle school aged students

, along with teachers, educators, and parents.
Ideation
The photos of the whiteboards below are some of our initial notes before conducting interviews and sketching our first prototypes. We separated the eBook into several categories: 
1. Timeline: 
History of Native Americans in Oswego
2. Maps: 
Old maps, timelines and games
3. Artifacts: 
Tools: AR, utilizing Adobe Spark
4. Short stories and diaries: 
Known stories about Native American Indians
5. The Nations (the 5 original nations): 
The five nations along with the additional nation of 

Tuscarora
Interactive clipart photos of what Native Americans wore and some of their daily tasks
6. Present days: 
Maps of what modern Oswego looks like today 
7. Conclusion: 
References & credits
Augmented Reality
We utilized
Adobe Spark
in order to create interactivity within the ebook. We chose clipart photos to make the pictures more enjoyable to look at. The clipart photos included examples of how the Native American Indians would complete their daily tasks such as weave baskets to carry items or food and how they built long houses for shelter. In addition, there are symbols added to the eBook representing some of the Native American spirituality symbols such as the turtle, that represents healing, wisdom, spirituality, health, safety, longevity, protection, and fertility. 
Interactive Games 
We decided to include a flag game, whereas the user has to match each tribe to the correct symbol. Our goal for the game was to create
memorability
when learning about each tribe.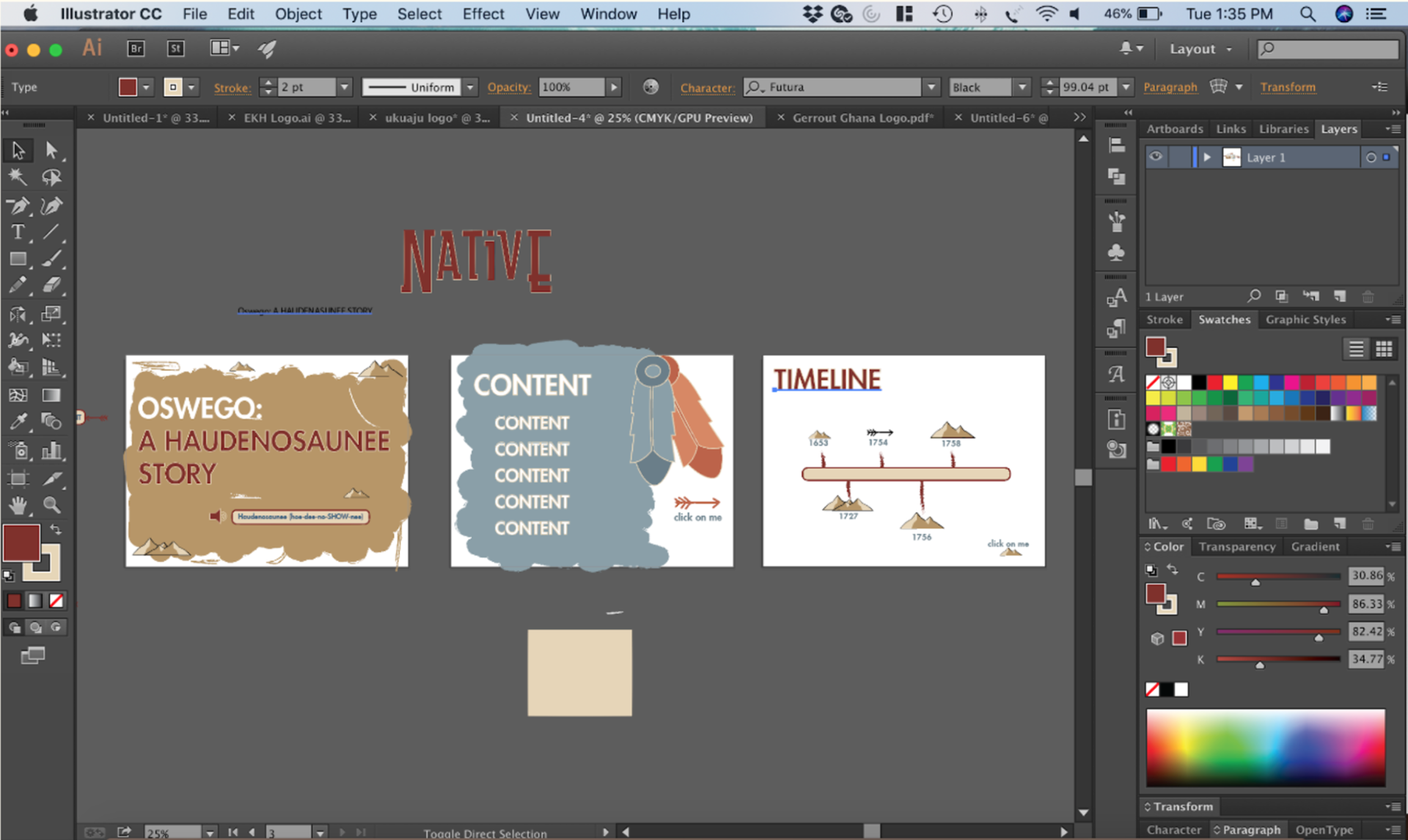 Conclusion
As a team, we used the 

Learning Experience Design

process in order to design and implement an interactive eBook for children to have fun while learning interesting facts about the first Native American Settlers to arrive in Oswego, New York.
​​​​​​​
Challenges
There was a

challenging

 moment in the project where a few team members disagreed over what software we should use for the AR. In order to solve this problem, we sat down as a team and listed out the pros and cons for each software, and then collectively decided to use Adobe Spark because it seemed like it would be the most efficient and useful. 
Lessons Learned 
From this project, I

learned

the importance of creating deadlines for each part of a project, and how to properly meet each deadline on time.